Details are beginning to emerge concerning the 2015 Irish Cross Country National Points series.  If you are not training now is the time to dig out the winter woolies and hit the trails hard in advance of this seasons XC race schedule.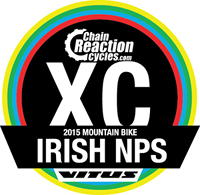 This year there will be 5 rounds starting in Wicklow in mid April.  This year the series has a new sponsor in the form of Chain Reaction Cycles and Vitus bikes.  New riders should note there are 4 categories that you can enter at senior levels with new riders entering S4.  Riders require either a day license or annual Cycling Ireland license to race.  We advise joining a club.
In a change to previous years, S4 round winners will automatically be promoted to S3 to reflect the status of the category as for beginners.  Also riders should note that all rounds count towards the overall series and no minimum attendance is required to qualify for this.
19/04 – TBA, CO.WICKLOW
03/05 – TBA, TBA
07/06 – TBA, CO.WICKLOW
28/06 – TICKNOCK
02/08 – CASTLEWELLAN
18-19/07 – XCO CHAMPS
13-14/09 – XCM CHAMPS
For first time racers check out the Biking Blitz for an excellent gateway to XC racing.  We highly recommend it!